About Us
From Humble Beginnings…
Hotel Barmoi is a boutique hotel situated on the cape of Aberdeen in Freetown overlooking stunning views of the Atlantic ocean.
Founded in 1999, the hotel opened with 16 guest bedrooms and was originally named Cape Guesthouse.  In 2004 the hotel was extended to 30 rooms and officially opened as Hotel Barmoi by past President H.E. Ahmed Tejan Kabba.  The number of rooms has since been extended and the hotel now stands at 36 guest rooms, most of which have views of the ocean.
Hotel Barmoi is the number 1 choice for returning visitors to Sierra Leone. Our central yet secluded location sets us apart from other hotels and guesthouses. We are proud to boast one of the highest rates of recurring guests in the city and look forward to welcoming you to the Barmoi family.
A History of Comfort and Outstanding Value
At Hotel Barmoi our first priority is guest satisfaction and we go all out to make sure your stay is as comfortable and stress-free as possible. We provide a wide range of amenities and services to take care of your daily, recreational and business needs.
At the Barmoi, we pride ourselves in providing our guests with a home away from home.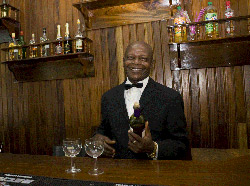 Service at its Best
Whether you are visiting Sierra Leone as a tourist or business traveler, Hotel Barmoi offers the ultimate in service coupled with modern accommodations. You will find our staff and amenities at a world class standard.
An Oasis of Tranquility
Hotel Barmoi is an oasis of tranquility on the Aberdeen coast.  Walking distance from the famous Lumley Beach and its many night spots, we are also easily accessible from the city. Here you will feel "at home" and spoiled with a true Sierra Leonean welcome.
First Class Accommodation and Amenities
Our exclusively designed rooms are stylish, comfortable and fitted with all the amenities and convenience you will require while staying away from home.  All our rooms are equipped with air conditioning, satellite TV, and refrigerators.  Free wireless internet service is accessible throughout the hotel.
Most of our rooms lead out onto a private balcony with magnificent and breathtaking views of the Atlantic Ocean.
On-Site Restaurant & Bar
Hotel Barmoi has a full-service restaurant on site. We offer complete breakfast, lunch and dinner menus on a convenient daily schedule. Dining is available either inside or outside on our pool terrace.  We operate a fully stocked bar with a range of local and international alcoholic and non-alcoholic beverages.
Private dinners can be arranged upon request.